MISSION STATEMENT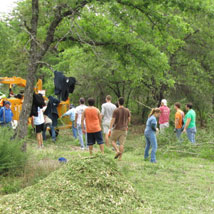 The post oak tree is the crowning achievement for this region of the country. It is the dominant tree pre-dating the Anglo settlement era.

Post oak woodlands have the unique ability to amend the local soil matrix in this hot dry climate in a positive way while providing an environment for native grasses and forbs to thrive.
Post oaks thrive in nature areas in the Great Southwest Region in an environment where soils, their flora and fauna, are unaltered by the allelopathic influence or aggressive root systems from pioneer species trees and shrubs.

The post oak tree is a fine example of the native tree thriving in its familiar continuum as an organ lives in its familiar continuum in a mammal.

It is hoped that with this information a culture of interest, participation and public policy revision will be created in the North Central Texas Region and reduce the mysticism associated with the valued post oak woodlands.
Our approach
1.
To work with the city mayors office, city managers office and city council members of the cities in the Dallas Fort Worth Metroplex to amend policy for a cooperative effort to utilize what is known by regional university horticultural academia for the long term health and utilization of the native post oak in natural and urban areas in the Southern Cross Timbers Region.
2.
To work with Dallas Fort Worth Metroplex Area municipal parks and recreation department administration for a cooperative and citizen participation effort to utilize what is known about the native post oak, black jack oak trees, native prairie grasses, forest floor, invasive species trees and shrubs and implement this knowledge in the field.
3.
To promote volunteer and donation efforts to achieve success in returning our post oak woodlands and savannas in Arlington, Texas and the Southern Cross Timbers Region to their pre-settlement condition for safety and botanical aesthetics.